More Northern Rock borrowers dispute loans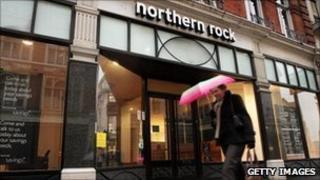 More Northern Rock borrowers are saying they were given inaccurate paperwork when the bank granted them unsecured loans.
Last week the bank said it would repay £270m in interest to 152,000 borrowers because mistakes in their paperwork had meant their loans, worth less than £25,000, had failed to comply with the Consumer Credit Act.
The new group says their larger loans, above £25,000, should also qualify for the reimbursement of interest payments.
They say their paperwork wrongly described their loans as being regulated by the act, when in fact they were not, and that this may give them the same contractual rights.
One borrower, John, said: "I have two loans with Northern Rock [now Northern Rock Asset Management (NRAM)] that I took out several years ago - both were for £30,000.
"Both agreements are headed 'Credit agreement regulated by the Consumer Credit Act [CCA] 1974', and the signature box contains the text, 'This is a credit agreement regulated by the CCA 1974. Sign it only if you want to be bound by its terms"."
"I thus signed the agreements thinking I had the protection of the CCA. I have now learned that they weren't regulated by the CCA at all, because they were both over the £25,000 limit in place at the time."
'Misrepresentation'
UK Asset Resolution, the government agency that runs NRAM, and which holds the bulk of the old Northern Rock mortgages and unsecured loans, acknowledged some borrowers had been given misleading loan documents.
But it denied they too had a claim for the repayment of interest.
"As their loans were for more than £25,000, they are not covered by the CCA, and customers are not entitled to remediation," UK Asset Resolution said.
"We will be writing to customers to explain the position and to provide them updated loan documentation.
"While we do not believe that any customer will have suffered a financial loss, we apologise to customers for any uncertainty this matter has caused," the lender added.
However, the bank's use of these misleading loan documents may mean that the protections and benefits of the CCA have, after all, been incorporated into the loan contracts of this second set of borrowers.
And if any of these individuals find that the bank's subsequent paperwork had also failed to comply with the detailed requirements of the act, for instance by not stating the original sum borrowed, then they too might be due a refund of the interest they had paid since 2008, not as a breach of the act but as a breach of contract.
Consumer credit specialist Robert Cooper, of advisory firm Scott Robert, in Stafford, said: "If the loans were above the old £25,000 limit and were struck before April 2008, then the loan document is incorrect as they are exempt agreements and most provisions of the act don't apply, but it is still a contractual agreement for credit.
"That means the contract is based on what is written in the documents and potentially on what was stated in discussions between the two sides prior to forming the contract. The terms agreed between the lender and borrower become the contract. If those terms are not adhered to then there will be a potential breach of contract.
"There may also be a case for misrepresentation if the borrower was induced into the contract by the statement that it was regulated agreement when it was not. If misrepresentation exists then a claim could be made for damages and rescission of the contract depending upon the category of misrepresentation," he added.
Complain?
Northern Rock customer Michael, suggested there may be more than just a few borrowers in this position.
"As part of the Together mortgage, which was a mortgage and unsecured loan attached, there are clients with loans in excess of £25,000 who had believed that their loans were regulated by the Consumer Credit Act 1974," he said.
"The CCA 1974 limit was £25,000, so there are customers now left in an unsure position, where they do not understand whether their loan is regulated by default [because] it was written in contract, or whether it has to be unregulated."
What are the solutions for anyone in this position who feels aggrieved? They could complain to NRAM.
If they were then rejected, the next step would involve a complaint to the Financial Ombudsman Service (FOS), which is free, or employing a solicitor to take the issue to court.
That might be free too, if they could find a solicitor willing to take the claim on a "no-win, no-fee" basis.
Proving any genuine financial loss or damage might be harder.