Irish government opposes Ryanair's bid for Aer Lingus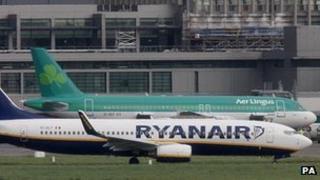 The Irish government has voiced its opposition to Ryanair's bid to buy rival Aer Lingus, saying the deal risks damaging competition.
However, despite Dublin holding a 25% stake in Aer Lingus, it is the European Union that will decide whether the takeover can go ahead.
Ryanair responded that the Irish government had no power to block its bid. It already owns 30% of Aer Lingus.
Brussels will rule on the deal early next year.
Ryanair wants to buy Aer Lingus for 694m euros ($917m; £565m).
It is the third time the airline has attempted to take full control of Aer Lingus, having seen its first bid turned down by the Commission in 2007. Ryanair subsequently dropped a second offer in 2009.
Last month, the Commission gave Ryanair a list of objections, but the airline offered new concessions to Brussels, including selling some of Aer Lingus' landing slots at London Heathrow to British Airways.
The Republic of Ireland's Transport Minister, Leo Varadkar, said: "The Ryanair offer and at least the remedies that are being reported are not sufficient in our view, so we won't support their bid and, in addition, won't co-operate with their remedies package.
"The Commission will make its own decision, but we have given our views and they are around connectivity, competition and employment.
"We don't see any advantages for Ireland in what's being proposed and we see very significant potential risks."