News Corporation says publishing arm lost $2.1bn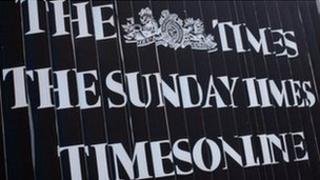 News Corporation says its publishing wing incurred a $2.1bn (£1.3bn) loss in the last financial year.
Revenues fell 5%, partly as a result of the closure of the News of the World, which it stopped publishing after the phone-hacking scandal broke in the UK.
The company detailed the losses as it formally applied to US regulators the Securities and Exchange Commission to split its business into two.
News Corp plans to separate publishing from its film and TV business.
The publishing arm, which News Corp said had made a profit of $678m the year before, will be called New News Corp. It will include book publisher Harper Collins, the Times and the Sun newspapers in the UK, the Wall Street Journal, the New York Post and the Australian.
The more lucrative TV and film business will be the parent company and will be called Fox Group.
It will include the US news channel Fox News and the 20th Century Fox film studio.
'Adverse trends'
The loss made by the publishing arm included a $2.6bn impairment charge, after writedowns of $1.3bn for goodwill and $1.3bn for other intangible assets, primarily newspaper mastheads and distribution networks.
These impairment charges were largely the result of "adverse trends affecting several businesses", including a weakening economic environment in Australia and lower predicted revenues from certain businesses.
The charges also reflected the expected sale of certain assets at a value below their carrying value, News Corp said.
The company first announced its plan to split in June, after pressure from shareholders who were concerned about the damage done to the publishing business by the events at the News of the World.
Robert Thomson, who is currently the managing editor of the Wall Street Journal and previously edited the Times, will be head of the new publishing company.
He will receive an annual salary of $2m, and a performance-based annual bonus with a target of $2m.
Rupert Murdoch will carry on as chairman and chief executive of the parent company, for which his compensation totalled $30m in the last year.
His pay will increase "modestly" as he takes on the role of executive chairman of the publishing company.