Domestic workers need greater protection, ILO says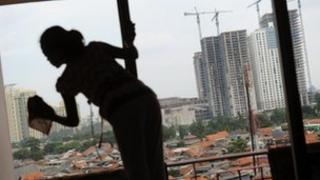 Laws are needed "urgently" to give greater protection to domestic workers, the International Labour Organization (ILO) has said.
It estimates that only about 10% of all domestic workers - about 5.3 million people - are covered by labour laws to the same degree as other workers.
About 30% have no legal protection at all, the report said.
The ILO said there were a total of 52.6 million domestic workers around the world at the end of 2010.
The publication of the report follows a number of high-profile cases of alleged breaches of domestic workers' human rights.
In the most recent case, it emerged on Wednesday that Saudi Arabia had executed a Sri Lankan domestic worker for killing a baby in her care in 2005.
The maid, Rizana Nafeek, had denied killing the four-month-old boy. Her supporters say she was only 17 at the time of the killing.
Human rights groups including Amnesty International and Human Rights Watch have criticised the Saudi authorities for their handling of the case.
Rest 'denied'
"Exclusion and partial coverage result in weaker protection for domestic workers in a number of important areas, including key working conditions provisions," said the ILO report, titled Domestic Workers Across the World.
It focuses on improvements to working-time regulations, minimum-wage coverage and maternity protection, since more than 80% of all domestic workers are women.
"In all areas, large disparities between domestic workers and other workers become apparent," the report said.
The report highlights that more than half of the world's domestic workers have no legal limits on the hours they must work each week, 45% of domestic workers are not guaranteed any weekly rest period and almost 50% have no minimum wage.
Some countries have taken steps to provide equal treatment in this area for all workers. However, most of Asia and the Middle East are yet to mandate that domestic workers are given at least one day off a week.
Phil Robertson, Asia division deputy editor for Human Rights Watch, said that a day off could prove very important.
"What we've seen, particularly in cases of migrant domestic workers, is that they are isolated by language and don't have connections with peers, which means they are more easily exploited," he said.
"That one day off allows them to form social networks. When one woman doesn't show up, people in her network follow up on whether there is a problem there."
Two years ago, the ILO adopted a convention on domestic workers, with the aim of introducing legal protection for them.
It is scheduled to come into effect this year. However, only three countries have ratified it so far.