Moscow Exchange plans share flotation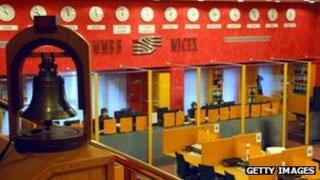 Moscow Exchange, Russia's biggest stock market, has said it plans to sell shares in itself on its own exchange.
The exchange handles trading in shares, as well as in debt, currencies and financial derivatives such as options.
Some of Russia's biggest firms, such as gas monopoly Gazprom, and oil firm Lukoil, are listed on the exchange.
Its shares will be offered for sale to foreign investors and ordinary Russian citizens among others, and are expected to raise over $500m (£315m).
"We are confident that this will become a key factor in strengthening Moscow's position as an international financial centre and make Russia's financial market more attractive for both Russian and international investors," said the exchange's chief executive, Alexander Afanasiev.
Russian President Vladimir Putin is keen to turn Moscow into a major international financial centre.
But the country's appeal as a place to invest - beyond the oil, gas and mining sectors - has been tarnished by reports of corruption, and by government interventions in the business world.
The Moscow Exchange was created in 2011 from the merger of the Moscow Interbank Currency Exchange and the Russian Trading System, and only adopted its current name last year.
The combined exchange was valued at $4.5bn at the time of that deal.
The two predecessor exchanges dated back to the presidency of Boris Yeltsin in the early-to-mid-1990s, following the collapse of the Soviet Union in 1991.
The Russian central bank owns 24% of the stock exchange, but will not be selling any of its shares in the flotation.