German investor confidence surges to pre-crisis high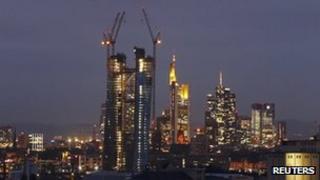 Investor confidence about the German economy has surged to its highest level since before the eurozone crisis, according to a closely watched survey.
The ZEW sentiment index rose to a surprise 31.5 in January, a 32-month high, up from 6.9 in December.
The news prompted the euro to gain half a cent against the dollar to $1.335, on hope Germany may escape recession.
Positive index levels indicate that more analysts are optimistic about the economic outlook than pessimistic.
German government bonds - treated by eurozone investors as a safe haven from the currency bloc's financial woes - fell in value on the news as markets turned their attention to more risky investments.
The investor sentiment index, produced by the Mannheim-based think tank ZEW, had registered a negative reading for 14 of the 18 months prior to December.
The negative sentiment reflected widespread concern that the German economy would be dragged into recession by the economic woes of its southern European export markets, stress in the eurozone banking system, and widespread uncertainty over the future of the single currency.
Last Updated at 20 Oct 2017, 21:42 GMT
*Chart shows local time
| €1 buys | change | % |
| --- | --- | --- |
| 1.1781 | 0.00 | -0.00 |
The index tracks the percentage of optimistic investors minus the percentage of pessimistic investors, and can swing between a theoretical maximum of 100 and minimum of -100.
'Moderate growth'
It is still some way short of the 40-to-80 levels that have historically been associated with economic recoveries since the index was first created in 1991.
A separate index compiled by ZEW from the survey of 272 financial analysts and investors in Germany, reflecting their assessment of the current state of the German economy - as opposed to their expectations about the future - rose fractionally from 5.7 to 7.1, still well below the 80-to-90 levels it was registering just 18 months ago.
"The financial market experts seem to expect that the positive sentiment on the financial markets may soon result in companies realising investments that had been postponed earlier on," said ZEW president Prof Wolfgang Franz.
"However, the economic situation of important trade partners is rightly considered to still be weak. This suggests that the German economy will further grow at a moderate level in 2013."
The survey also found that sentiment about the UK, Japanese and the broader eurozone economies improved strongly during the month, while expectations about the US economy remained largely positive.
Among the industrial sectors, investors were most enthusiastic about the prospects for information technology, construction, services and pharmaceuticals.
The survey suggested that serious worries remain over the banking, insurance and car industries, but that expectations were not as bleak as a month earlier.