Jaguar Land Rover sees lower profit margins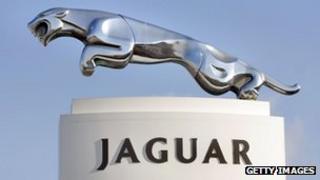 Jaguar Land Rover has said its profit margins will be "slightly lower" than in recent quarters, sending shares in its Indian owner lower.
The luxury carmaker blamed a number of factors, including less favourable exchange rates, but said that revenues would still be higher.
Shares in Tata Motors fell more than 6% in Mumbai.
Tata Motors, part of India's huge Tata conglomerate, makes most of its money from Jaguar Land Rover.
Jaguar Land Rover announced that, for the three months to 31 December, its retail sales were 88,658 and its wholesale sales were 94,828, both up from the previous two quarters.
The Chinese market - where sales of Jaguar Land Rover's vehicles have risen 80% in the past year - has been rising in importance to the company.
The carmaker plans to increase its dealership network in China by a further 30% in the coming year.
"We plan to continue to increase and accelerate capital spending to develop new products in new and existing segments... grow our manufacturing footprint in China and explore manufacturing opportunities in other markets," it said.
Jaguar Land Rover said that its capital spending could increase to be in the region of £2.75bn in 2014.
The West Midlands-based luxury carmaker agreed a "milestone" deal with Chery Automobile and will build a plant near Shanghai, which is due to open in 2015.