Wall Street shares top recent records on investor confidence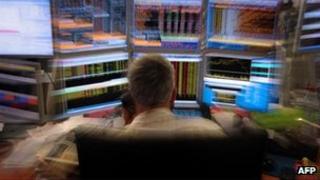 Wall Street has continued to break recent records on the back of stronger economic data and better profits news from corporate America.
The Dow Jones and S&P 500 indexes of major US companies closed at their highest since late 2007.
US homes sales data and profits growth at household goods giant Procter & Gamble underpinned investor confidence.
"The bottom line is that corporate America is doing exceptionally well," said JP Morgan strategist Joe Tanious.
But analysts also pointed to recent data from China and Germany, and Japan's pledge to stimulate its economy, as helping to propel shares upwards.
European banks said they would repay the European Central Bank much more than expected of the loans the bank gave them during the financial crisis, another positive factor.
The S&P edged up 8.14 points, or 0.54%, to 1,502.96, the first time it has closed above 1,500 since 10 December, 2007.
The Dow Jones rose 70.65 points, or 0.51%, to 13,895.98. The was its highest since 31 October 2007.
News that sales of new homes in 2012 were the highest since 2009, sparked hopes that the US housing market turned a corner last year.
"Economic data in the US has been trending higher, albeit modestly. Things are incrementally better," said Quincy Krosby, market strategist at Prudential Financial.
Thomson Reuters data released on Friday showed that of the 147 S&P 500 companies that have reported earnings, 68% exceeded analyst's expectations.
The S&P 500 has advanced 5.4% so far this month, and the Dow is up 6%, prompted many market experts to raised their end-of-year target for the two indexes.