Easyjet chairman Sir Mike Rake resigns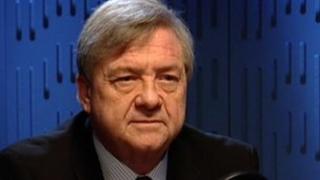 Low-frills airline Easyjet has announced that its chairman, Sir Mike Rake, will stand down this summer.
The move follows a long-running battle between the company and its founder, Sir Stelios Haji-Ioannou over the airline's expansion.
Earlier this week, Sir Stelios reduced his stake in Easyjet and threatened to sell more of his shares if the firm placed an order for more planes.
On Thursday Easyjet reported a 9% rise in revenues for the last quarter.
It also said it expects to make a smaller loss in the first half than it had previously forecast.
'Right time'
In a statement announcing Sir Mike's departure, Easyjet said it had begun looking for his successor and Sir Mike had agreed to remain in his post until a replacement could be found.
The chairman said he wanted to make his position clear ahead of the company's annual meeting on 21 February.
"Easyjet has by any definition enjoyed a period of success and profitable growth in the last three years. As this takes the airline to the threshold of entry to the FTSE 100 it is the right time for me to stand down.
"The airline is now well positioned to continue to deliver profitable growth and returns for all its shareholders."
Sir Stelios, who founded Easyjet in 1995, has in recent years had a number of high-profile arguments with the management over the way the company is run.
Last year he tried to throw out a multi-million pound pay deal for executives but the vast majority of shareholders approved the pay packages.
In August he tried to oust Sir Mike, arguing that his role as deputy chairman of Barclays bank kept him too busy to devote enough attention to Easyjet, but 96% of shareholders voted to keep him as chairman.