Tax advice call charges to be cut by HMRC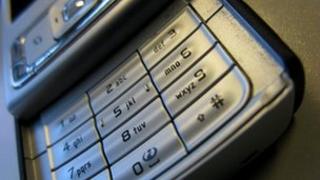 Taxpayers calling the UK tax authority for advice will no longer need to use a costly 0845 number by the end of the summer, MPs have been told.
A present, those ringing for tax help on a mobile can pay 41p a minute, with some waiting for more than 10 minutes.
The average waiting time for the HM Revenue and Customs (HMRC) helplines is six minutes, including a two-minute recorded message.
Helplines will be switched to the cheaper 03 prefix soon.
Timetable
From April, calls about Child Benefit - which is now being taken away from high earners - will be via numbers with the 03 prefix, which is already being used for tax credit enquiries.
Some 03 calls should count as part of inclusive minutes in a phone contract and are charged at the same rate as 01 or 02 numbers. They can cost 2-10p per minute from a landline, but are free with some packages.
All customer calls will be switched to the 03 prefix by the "end of the summer", according to HMRC officials who were giving evidence to MPs.
"We are renegotiating the contract now but we are going to move ahead of that because that renegotiation will take some time," Ruth Owen, director general of personal tax at HMRC told MPs.
Earlier, the UK's head of tax, Lin Homer, admitted to the Commons Public Accounts Committee that typical telephone waiting times of over four minutes did not include the time spent listening to recorded messages, which can be more than two minutes.
Margaret Hodge MP, who chairs the committee, said: "It is unacceptable that a public service expects the public to use an 0845 number."
HMRC is setting itself a new target, from April, of making 80% of people wait no longer than five minutes to speak to a real person, including recorded messages.
A recent National Audit Office report calculated that taxpayers were losing £136m a year in call charges and wasted time.
Last year, HMRC failed to answer 26% of calls - or 20 million calls in total. Of the callers who did get through, millions had to wait more than 10 minutes.
Over the winter the proportion of unanswered calls has fallen to around 10%.