India cuts interest rates for first time in nine months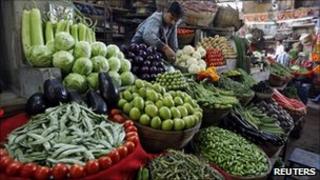 India has cut its main interest rate for the first time in nine months in an attempt to revive economic growth.
The Reserve Bank of India (RBI) has lowered its key rate to 7.75% from 8%.
It also lowered the amount of money that banks need to keep in reserve, a move it said should provide 180bn rupees ($3.4bn; £2.1bn) of extra cash for them to lend.
India's growth has fallen to a three-year low and the RBI has been under pressure to stimulate the economy.
Easing inflation
The slowdown in India's growth had resulted in calls from both the government and business for the central bank to lower the cost of borrowing.
It had resisted the calls saying it had to keep inflation in check. However, the pace of consumer price growth has slowed in recent months.
India's Wholesale Price Index, the country's main gauge of inflation, eased to an 11-month low of 7.18% in December.
Commenting on its most recent move, the RBI said in a statement that the slowdown in the rate of inflation "provides space, albeit limited, for monetary policy to give greater emphasis to growth risks".
The RBI added that it expects inflation to slow further in the coming months.
It said that it expects the rate of inflation to dip to 6.8% in March, compared with its earlier projection of 7.5%.
Further cuts?
India's economy grew by 5.3% from a year earlier in the July to September quarter, the slowest pace of expansion in three years.
The Asian economy has been hurt by a variety of factors.
The slowdown in the global economy has hurt demand for its exports and affected its manufacturing sector.
Meanwhile, domestic demand in the country has also remained subdued and foreign investors have been wary of entering the country amid a delay in key reforms.
That has led to concerns that India's growth rate may slow further in the coming months.
On Tuesday, the central bank lowered its full-year growth forecast for the financial year 2012-13 to 5.5%, from its earlier projection of 5.8%.
Analysts said that the RBI may cut its interest rates further in an attempt to try and sustain long term growth.
"The Reserve Bank of India is definitely less hawkish in its statement, and we think it will remain in the easing mode in 2013," said Sujan Hajra, chief economist at Anand Rathi Securities in Mumbai.
Mr Hajra said that he expected the RBI to cut rates by 0.5% over the next five months.