Anglo American in $4bn writedown on Brazil iron ore project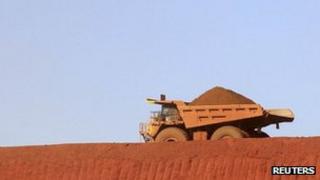 Mining group Anglo American is writing off $4bn (£2.5bn) after a review of one of its projects.
The review of its Minas-Rio iron ore project in Brazil raised its costs to $8.8bn.
Among the causes of the extra costs was the delay in the expected first delivery of iron ore from late 2013 to late 2014.
Costs of construction have also risen as have the prices of various pieces of mining equipment.
The company's chief executive Cynthia Carroll said she was "disappointed" by the extra costs but added: "Minas-Rio is a world class iron ore project of rare magnitude and quality and represents one of the world's largest undeveloped resources.
"Despite the difficulties, we continue to be confident of the medium and long term attractiveness and strategic positioning of Minas-Rio and we remain committed to the project."
New boss
Critics have said she agreed to pay too much for the mine, which cost the company $5.1bn in 2007 and 2008.
She is due to be replaced in April by AngloGold Ashanti chief executive Mark Cutifani.
The original estimate for the cost of completing the project in 2008 was $2.6bn, but that has now been raised six times.
The project includes building a 525-km pipeline to take iron ore slurry to the coast.
Anglo American has had a difficult year, with strikes in South Africa hitting its output.
The company's results for 2012 are due out in February, but it has already announced that platinum production was down 29% as a result of industrial unrest.