Bumi board fights Rothschild plan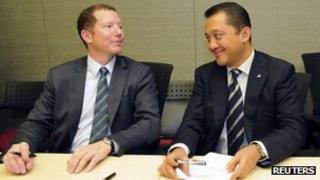 The board of Bumi has rejected a bid by co-founder Nat Rothschild to retake control of the mining firm at a shareholder meeting on 21 February.
Mr Rothschild has called a vote to replace 12 of the 14-member board.
The board warned "stalemate, continued shareholder disputes and further value destruction" would ensue.
Bumi's management instead wants to push through a split agreed with Indonesia's Bakrie family following claims of fraud originally levelled by Mr Rothschild.
Allegations of financial irregularities at its key Indonesian operating subsidiary, PT Bumi Resources - in which it owns 29% alongside the Bakrie family - first emerged in September, after Mr Rothschild received information from a whistleblower.
However, an investigation by legal firm Macfarlane, commissioned by the management of the London-listed parent company, said the evidence provided to Mr Rothschild comprised emails that had been obtained illegally.
Macfarlane said the claims that money intended to finance development of coal mines had been misappropriated could not be substantiated, in large part due to "the unwillingness of key parties to be interviewed and provide information".
Bumi's management said that it had referred the matter to the relevant authorities, including the Indonesian financial services authority, and the UK Serious Fraud Office.
Resignation threat
Mr Rothschild quit the board in October.
Bumi's new chief executive, Nick von Schirnding, has negotiated an amicable divorce with the Bakrie family, including the sale of its stake in PT Bumi Resources for $580m (£370m), and the family's divestment of its 24% in the London-listed company.
The board warned that the deal would be scuppered if Mr Rothschild succeeded in retaking control of the company.
It also claimed that the Bakrie family would then seek to enforce its rights under an existing shareholders' agreement, by litigation if necessary.
The board said its rejection of Mr Rothschild's proposal was unanimous, and if the motion were passed, the two serving board members that the British financier proposed to retain - Sir Graham Hearne and Steven Shapiro - have vowed to resign.
Bumi's current management also announced further steps in its plan to consolidate control of another Indonesian coal-mining subsidiary, Berau Coal, of which it owns 85%.
It appointed the unit's operations head, Eko Budianto, to be its new overall director, and also hired Tony Redman of the mining giant Anglo American as a technical advisor.
Mr Rothschild criticised Mr Budianto's appointment on Monday, saying that he was not truly independent.