Canon 2012 earnings slip 10% in 'downturn'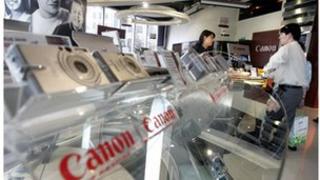 Japan's Canon has blamed the global economic downturn as well as the strength of the Japanese currency for a 10% fall in its full-year earnings.
Net income for 2012 amounted to 224.6bn Japanese yen ($2.5bn; £1.5bn) down from 249bn yen in 2011.
The firm said demand for digital cameras has been lackluster, as consumers switched to smartphones.
Meanwhile the eurozone debt crisis eroded demand from the economic bloc, where sales tumbled by 9%.
Canon also said in the earnings statement that demand from China had cooled off in the latter half of 2012.
Chinese consumers had began boycotting Japanese goods around September last year, following a territorial dispute over islands in the South China Sea, which led to street protests in China.
Yen boost?
But the Japanese firm is optimistic about the current business year.
For 2013, Canon is forecasting net profit to come in at 255bn Japanese yen, which would be a 13% increase from 2012.
In addition, the recent depreciation of the yen will also help boost the attractiveness of Canon's products to overseas customers.
The Japanese currency has lost around 10% of its value against the US dollar since mid-November.
That was when Shinzo Abe, campaigning to be Japan's next prime minister promised to weaken the yen to help revive the country's sluggish economy.
The yen has been on a downtrend since Mr Abe came into office in January.
Earlier this month, together with the Bank of Japan, the government announced it will adopt more easing measures, which included pumping billions of yen into the economy through an open-ended asset purchase program that will start in 2014.