Mortgage approvals point to more house sales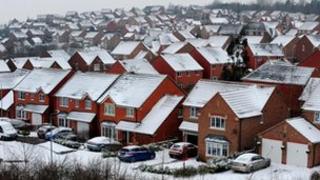 The number of mortgages agreed by lenders for home buyers has risen for the fifth month in a row, figures from the Bank of England show.
In December, 55,785 mortgages were approved for home buyers, the most since January 2012 and, before that, the highest since December 2009.
The figures suggest that house sales will rise in the coming months.
Lenders have attributed this revival to the government's Funding for Lending scheme (FLS).
On Tuesday, the Land Registry for England and Wales reported that house prices in England and Wales had risen by 1.7% in 2012.
Although that was the fastest rate for more than two years, the average rise was driven by price increases in London.
FLS is a scheme run by the Bank of England which, since last August, has been offering cheap funds to banks and building societies, on condition they then lend the money to personal and business customers.
The aim has been to stop overall bank lending falling any further, as part of the authorities' strategy to stop the economy falling even deeper into recession.
The increased funding has already translated into higher sales.
Earlier this month figures from HM Revenue and Customs (HMRC) showed that house sales in the UK rose by 5% last year.
There were 932,000 completed sales in 2012, up from 885,000 the previous year, and the highest since 2007.
At the start of January the Bank of England surveyed lenders and found that lending, which had risen in the last three months of 2012, was also expected to rise "significantly" in the first three months of this year.
Mutual lenders, such as building societies, were responsible for an increased share of new mortgage lending last year.
The Building Societies Association (BSA) said new lending by its members rose by 30% in 2012.
This gave them a 22% share of the total new lending market, up from 17% in 2011.
"Mutual lenders are likely to continue to play a prominent role in the mortgage market in 2013, helped in part by the Bank of England's Funding for Lending Scheme," said Adrian Coles, director-general of the BSA.
"Well over half of the 35 firms signed up to the scheme in December are mutuals. The full potential of the scheme and its benefits to homebuyers will be demonstrated as the year progresses."