Mothercare Australia enters into administration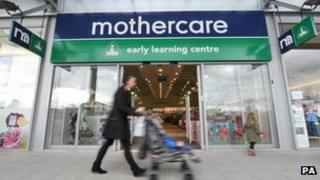 The Australian version of Mothercare has entered into administration, sending shares in London down 2.8%.
The UK childcare products retailer, which has a 23% stake in the Australian joint venture, said that the "expected profit impact is minimal".
It said the Australian venture accounted for about 7% of its international retail sales.
Mothercare has been scaling down its presence on the UK High Street as part of a turnaround plan.
It now has only 269 stores, compared with 311 last April.
The retailer, which also owns the Early Learning Centre chain, has also been busy expanding overseas, with 31 new stores opened outside the UK during the last three months.