Boeing revenues hit record before Dreamliner grounding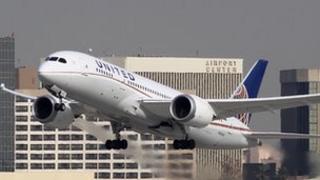 Boeing's revenues in the last quarter of 2012 reached a record $22bn (£14bn), the US plane manufacturer has said.
Its backlog of plane orders also hit an all-time high of $390bn as the company began delivering the first of its new flagship Dreamliner 787 jets.
The firm made net income of $978m, down 30% from a year ago, when it benefited from an unusually low tax bill.
The figures pre-date the grounding of the 787 worldwide earlier this month by air regulators over a battery fault.
Boeing did not add to its existing comments on the investigation into the fault, repeating that it was co-operating fully with the US Federal Aviation Authority.
However, in a possible sign of confidence, Boeing said that its forecasts for revenues and profits this year were not being adjusted to reflect any impact from the suspension of Dreamliner flights.
Its revenues in the fourth quarter were up 14% from a year ago, driven almost entirely by a 32% increase at its commercial planes division. In contrast, business at its space and defence division continued to stagnate.
For 2012 as a whole, revenues rose 19% to $81.7bn, while net income was down a fraction at $3.9bn. Boeing's after-tax profits were dragged down by the reversion of its effective tax rate from a favourable 27% of earnings in 2011 to a more normal 34% last year.
"In a year of considerable achievement. Boeing was the commercial aviation market leader for both orders and deliveries, with more than 600 airplanes delivered, including the first Charleston-built 787 Dreamliners," said chief executive Jim McNerney.
"Our first order of business for 2013 is to resolve the battery issue on the 787 and return the airplanes safely to service with our customers."
Earlier on Wednesday, the Japanese airliners ANA and JAL - the two biggest customers for the Dreamliner - both confirmed that they had changed a number of batteries on the planes over the past months.
The battery on one JAL plane caught fire, while an ANA flight had to make an emergency landing due to a battery fault.
According to the FAA, in both cases the batteries had leaked electrolyte fluid and there had been smoke damage to parts of the aircraft.