German and French shoppers buy less in December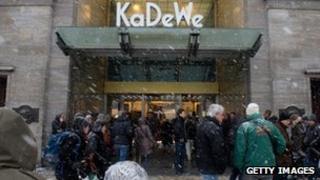 Shopping in Germany and France was unexpectedly subdued in December, official data has indicated.
German sales fell a surprise 4.7% from a year ago, the biggest drop since May 2009 at the depth of the recession.
It meant sales for the whole of 2012 were down by 0.6%. German retailers' trade body HDE said it expected a further modest fall this year.
Meanwhile, in France consumer spending in December fell 0.1%, as shoppers cut back on clothing and manufactures.
The month did see a 4.6% jump in French car sales compared with November, ahead of a new tax on high-emission vehicles that took effect on 1 January, although December car sales were still down 3.8% from a year earlier, reflecting a terrible year overall for the European car market.
While the French data were only mildly disappointing for analysts, the drop in German retail sales came as something of a shock and appeared to contradict anecdotal evidence from the German High Street.
"The retailers did not report sensational Christmas sales," said Alexander Koch, economist at Italian bank Unicredit. "But they were broadly satisfied. It's hard to reconcile this with the strong decline we've seen here."
Jobs joy
The retail sales figures are well-known for their volatility and despite its unusual size, analysts said the December dip in Germany could well correct itself in January.
The main components of spending to fall in Germany were foods, drink and tobacco (down 4.1%) and clothing, shoes and textiles (down 6.5%).
But German unemployment data, also released on Thursday, was more encouraging.
The number of people unable to find work fell unexpectedly by 16,000 to a seasonally-adjusted 2.9 million, reducing the unemployment rate to 6.8% of the workforce, close to its lowest level since German reunification in 1990.
The construction and health sectors added most of the jobs, and both are said to suffer from skills shortages.
The construction industry in Germany - almost uniquely in the eurozone - is enjoying a modest upturn as mortgage interest rates in the country have fallen steadily during the eurozone's financial crisis and property prices have risen.