BSkyB profits up as more customers choose extra services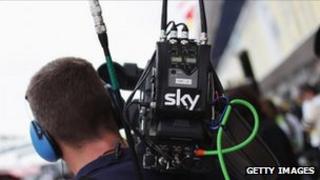 BSkyB said it had added an extra 88,000 customers in the last three months of 2012, bringing total subscribers to 10.74 million, up 271,000 for the year.
The pay-TV broadcaster also said extra services such as On Demand and Sky Go had driven increased viewing.
BSkyB reported pre-tax profits of £642m for the six months to 31 December, up from £597m a year ago.
Chief executive Jeremy Darroch said the figures were a "good performance", but said 2013 would still be "challenging".
Revenues for the half-year rose 5% to £3.5bn.
The proportion of Sky households with fully-connected HD set-top boxes continues to grow. About 460,000 boxes were activated in the last quarter of 2012, taking the total number of connected boxes to 1.7 million.
The company said it expected HD services to show "good growth" during 2013.