Last-minute rush to beat self-assessment tax deadline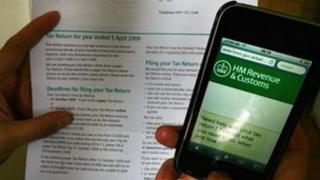 More than 1.3 million tax payers have still to file their online tax returns by the end of Thursday, under the self-assessment system.
About 10.6 million people are obliged to file their returns by midnight and make any necessary payments.
So far, about 9.3 million have done so. Those who fail will be fined £100 automatically.
Last year, 445,000 filed on the last day and even more people are expected to do so today.
On Wednesday, 418,897 tax returns were filed in just one day, as part of the annual rush.
As before, several hundred thousand people will fail to meet the midnight deadline, including a hard core who persistently fail to file on time each year.
A spokesman for HM Revenue & Customs (HMRC) said: "We are pleased that more and more people file online each year."
Last minute effort
Tony Bernstein, a tax partner at the accountancy firm HW Fisher & Company, said: "Filling in a self-assessment form can be a time-consuming process, but by working efficiently in the final hours before the deadline, you can give yourself a fighting chance of getting it done in time."
"Finally, check everything carefully before pressing submit - and make sure you do so before midnight."
Mr Bernstein listed five check points for anyone rushing to meet the midnight cut-off point:
If you do not have exact figures, put in estimates. You must, however, make the estimates as accurate as possible and flag up on the form that the figures are estimates and not exact. You will still need to supply exact figures later, but at least estimates will do for now.
Focus on the most relevant information. If you do not have a P60 form from your employer, your March payslip will have much of the same information. Your bank statements can also tell you much of what you need to know - how much you paid in pension contributions, charitable donations and so on.
Do not forget to declare the interest you received from your bank. Your March statement will often show how much interest you received over the year, so that's the most important one to to look at.
Similarly, you must declare the dividends you received from shares or similar investments. This rule applies whether you received the dividends as cash or they were reinvested. If you do not have a personalised dividend certificate, the fund manager or company will usually list the dividend paid per share on its website. You can multiply that by the current number of shares you own to work out the dividend you received.
The internet and the phone are your friends. If you cannot find the relevant paper statements, you may be able to get the information you need over the phone or online.
Anyone who has only just realised they have to file by midnight, and who has not been in the self-assessment system before, will have discovered their obligation too late to avoid a fine.
Using the self-assessment system involves registering first to obtain an activation code, which is sent out by post.
That means it is now too late to ask for one in the hope of receiving it in time.
A full guide to filing your tax return, and making any payments required, can be found here.