Could airport hub capacity see UK lose out to rivals?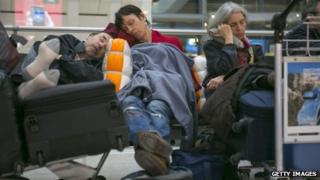 The recent snow brought into sharp focus just how full London Heathrow airport is.
Four inches (10cm) of snow forced hundreds of people to sleep in the terminals awaiting their delayed flights to take off.
Statistically speaking, Britain and Europe's busiest hub is running at 98% capacity.
And so Heathrow's owners and British Airways, its largest user, are crying out for permission to expand by building a new runway. The airport's detractors are equally vociferous against any further development.
The government - caught between a runway and a hard place - has commissioned yet another independent review about the issue (the fifth major report since the 1960s) under Sir Howard Davies.
That decision is not expected until at least 2015, prompting supporters of Heathrow's expansion to claim that the UK could lose out to its international rivals.
Among them is Schiphol Airport in the Netherlands. Like Heathrow it is one of the daddies of European aviation hubs, but it is a large airport in a small country.
As such it has had to lure passengers from other countries in order to grow, with Britain being its principal target.
The airline KLM flies from 14 British cities into Schiphol and aims to increase that to 17 by the end of 2013.
And while Britain has prevaricated on airport expansion, Amsterdam now has six runways.
But it is a very different airport to Heathrow - 70% of all people who use Schiphol are transfer passengers, who have no intention of getting out in Amsterdam. The equivalent for Heathrow is around 30%.
So Schiphol has built its entire airport around passengers changing planes - something that might not make sense in London.
"We have the one terminal concept which makes it very easy for passengers that come here to connect to their flights, it's not huge distances that they have to travel," said KLM's Pieter Bootsma.
"Our airport capacity is also built on making connections, facilitating [that] with a lot of gates in order to make sure that passengers can connect efficiently to their new flights and then they can go out quickly again."
Istanbul expansion
But even though Amsterdam is growing, like many of Europe's older hubs, it faces stiff new competition from the Near East.
Between 2002 and 2012 Heathrow squeezed an extra 11% out of its two runways, to about 69 million passengers a year, while Schiphol was up a quarter to 50 million passengers.
But the likes of Istanbul, Dubai and Qatar saw their passenger traffic jump four and five-fold in that time.
In fact, Istanbul is almost unrecognisable from the turbulent 1990s.
Twenty years ago it was a run-down city in a developing country which barely registered on the economic Richter scale, let alone as a global hub for air travel. Now it is making the earth shudder with its rapid ascent up the aviation ladder.
Political stability, a young well educated population and the rise of Asia as an economic dynamo have created a boom in one of the largest Muslim countries in the world, which also sits on the fault line between two continents.
Turkish prime minister Recep Tayyip Erdogan - in office since 2001 - set about restoring Istanbul as a global trading capital.
As part of that drive he encouraged and supported the rapid development of Ataturk airport as a hub, enabling it grow from 10 million to 45 million passengers a year between 2002 and 2012.
His government also supported Turkish Airlines by subsidising some loss making routes, such as those to Tblisi and Mogadishu, which had been ignored by the big Western carriers.
But the lesson from Turkey for Britain is to spend more money on airports and runways than airplanes.
Turkish Airlines chief executive Temel Kotil says the cost of a Boeing 777 aircraft is about the same price as an airport runway in Turkey - £95m ($150m) - so his success in the air is only met by expansionary investment on the ground.
"I'd spend millions of dollars on the ground because you make the passenger happy... at check in and boarding," said Mr Kotil.
The level of ambition in Istanbul when it comes to aviation is staggering.
The city, which is roughly the same size as London and also has five airports, plans to build a brand new five runway mega-hub catering for 150 million annual passengers by 2018.
"Eventually there'll be a saturation point," said Mustafa Sani Sener of TAV Airports.
"There are 150,000 motorways in the air from Europe to the other parts of the world. There is no other economic activity which can replace this," he added.
So if large countries with large urban populations can expand rapidly, why does the airport at the centre of this debate (London Heathrow) find it so tough to build more runways when the demand from passengers, at least, is there?
Mayor of London, Boris Johnson, thinks that Britain needs new airport capacity, but it needs to be anywhere but at Heathrow.
His aviation adviser, Daniel Moylan, said: "The incumbents at Heathrow benefit from the fact that it's full.
"And if they want to see expansion of aviation capacity, they want to see it at a rate which ensures Heathrow always remains full."
Messrs Moylan and Johnson like the idea of building a brand new four or five runway airport in the Thames Estuary in Essex which would not disturb many neighbours and would meet air travel demands for decades to come.
Prof Rigas Doganis of Cranfield University thought the lack of action was to do with the nature of the democracy in the UK.
He said that infrastructure providers do want to expand, but local opposition is very strong and there is a constant conflict between those who want to build and those who want to delay.
"The government tends to sit in the middle. It doesn't take sides, and often if it does take sides, it supports the objectors, which is what has happened at Heathrow," he said.
Newsnight is broadcast weekdays at 2230 GMT on BBC Two. Or watch afterwards on BBC iPlayer.