Personal insolvencies fall to four-year low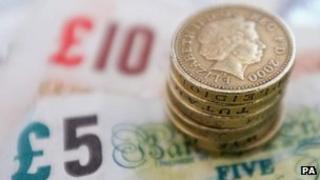 The number of people being declared insolvent in England and Wales fell last year to the lowest level since 2008, the Insolvency Service has said.
There were 109,477 individual insolvencies last year, down 9% from 2011.
In the final three months of 2012, 25,302 people were declared insolvent, down 10% on the previous quarter.
The Insolvency Service figures showed that the number of firms going bust in England and Wales also fell.
The number of receiverships, administrations and company voluntary arrangements among companies fell by 8% last year to 4,593, the lowest level since 2007.
In addition, there were 16,138 compulsory liquidations and creditors' voluntary liquidations last year, down 4.4% on 2011. These figures count the final winding up of firms at the end of the insolvency process.
There has been a renewed spate of retailers falling into administration recently, including such well known names as HMV, Blockbuster, Jessops and Comet.
The continued pressure on consumers, with wage and salary increases being outstripped by inflation, is expected to rein in spending and lead to more retailers closing down this year.
Insolvency practitioner Bev Budsworth said: "The news for the High Street has been particularly gloomy, with 2012 being the worst year since 2008, with 54 large retail companies going bust compared to 31 in 2011.
"This effectively closed around 4,000 stores and affected 48,000 employees.
"These statistics were made up of many businesses that could have survived a year or so in a recession, but not four to five years of sustained low profits or losses," she added.
'Dangerous quirk'
In the category of personal insolvencies, the number of people going bankrupt continued to fall, to 31,765 - their lowest level since 2003.
However, the number of people granted a debt relief order - a procedure first introduced in 2009 - reached a new high of 31,207.
Joanna Elson of the Money Advice Trust said the fall in traditional bankruptcies was not necessarily good news.
"It does not appear to indicate any alleviation of household debt problems, but is instead a dangerous quirk of the current insolvency regime," she said.
"Our experience at National Debtline and Business Debtline is that many people simply can't afford to go bankrupt.
"Finding the requisite £700 to petition for bankruptcy simply isn't feasible, and people are instead left to drift in a financial black hole where they can't afford to repay their debts, can't afford bankruptcy, and have no other way out," she warned.
Zombie companies
One feature of the economy in the past few years has been the reluctance of banks to pull the rug from under struggling companies.
Banks have been under intense pressure not to be too aggressive in recouping bad loans made to firms that now appear insolvent, an approach known as forbearance.
But this has led some commentators to suggest that many firms in trouble are really zombie outfits, with no real life left in them, just being kept alive by their banks.
"The poisonous, growth-stifling effect of zombies is one of the key reasons the UK is lurching towards a third recession," said Nick O'Reilly of accountancy firm HW Fisher & Company.
"But while their impact is obvious, until now the zombies themselves have been hard to see.
"Most economists agree the economy won't be able to grow again until they are choked off, but such a radical suggestion is clearly politically unpalatable," he added.
John Alexander of accountants Carter Backer Winter said: "It is evidence of the continuing stagnation in the economy and the proliferation of zombie companies that, despite struggling, failing to make money and unable to grow, [they] do not enter into formal insolvency procedures but just continue to muddle through, often losing more money and getting further into debt."