Credit Agricole to make 2.68bn-euro writedown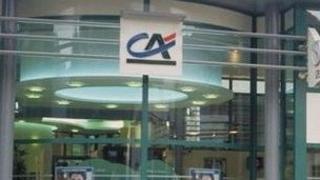 Credit Agricole has warned it will make a huge writedown of the value of its assets to reflect a worsening eurozone economy and new tighter regulations.
France's third largest bank said its fourth quarter results due later this month would be hit by 2.68bn euros (£2.3bn) of charges.
These include writedowns on the value of operations in Portugal and Italy.
The bank stressed that the charge would have "no impact on its solvency or liquidity".
Credit Agricole is due to unveil its full year figures on 20 February. In November, the bank reported a third quarter loss of 2.85bn euros for the July to September period, mainly due to the cost of selling its Greek operation Emporiki.
Last month, the European Union's markets watchdog said it had told companies and their accountants they would be named publicly if they failed to properly write down goodwill impairments in their latest results.
Credit Agricole is controlled by 39 French regional banks, The company expanded rapidly before the financial crisis, including in southern European through the acquisition of France's Credit Lyonnais bank.