Eurozone manufacturing 'on course' for return to growth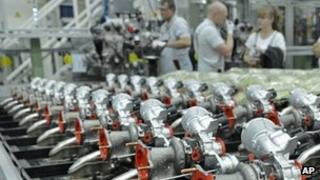 The contraction of manufacturing across the eurozone slowed in January amid signs that the worst may be over, according to a survey.
The Markit Purchasing Managers' Index rose to 47.9, from 46.1 in December.
The index has been below the 50 mark that separates growth from contraction since August 2011.
But Markit's chief economist Chris Williamson said the January data pointed to the eurozone returning to growth in mid-2013.
In Germany, the PMI figure rose to 49.8 in January from 46.0 the previous month, coming in just below the 50 threshold. Although it was the 11th straight month of decline, it was easily the slowest rate of contraction in that time.
"The improvement was led by Germany, which saw the strongest gain in output of all eurozone states, but rising exports are also helping to revive the manufacturing sectors of other countries, most notably Spain and Italy," Mr Williamson said.
"While the industrial sector looks likely to have acted as a drag on the eurozone economy in the final quarter of last year, deepening the double-dip downturn, the PMI provides hope that the first quarter could mark the start of a turnaround.
"Providing there are no further setbacks to the region's debt crisis, these data add to the expectation that the euro zone is on course to return to growth by mid-2013," he said.
In Spain, the index rose from 44.6 in December to 46.1 last month. In Italy the index rose for the second month to 47.8 in January from 46.7 last month.
Eurozone unemployment
However, in France the downturn deepened, with the manufacturing PMI for the bloc's second-largest economy sinking to a four-month low of 42.9.
"Confidence [in France] seems to have evaporated in the face of an increasingly uncertain economic environment, leading manufacturers to make sharper cuts to employment, purchasing and input stocks," said Jack Kennedy, senior economist at Markit.
Despite the better manufacturing news for the eurozone as a whole, the bloc's continuing problems were underlined in the latest unemployment figures for December.
Unemployment in the region remained at a euro-era high of 11.7%, according to figures from the European Commission's statistics agency, Eurostat.
Although the figure was slightly lower than the 11.9% forecast by many economists, it was still higher than the Commission's year-end 11.3% prediction.
Slow growth
Separate PMI data from China indicated that the country's manufacturing sector was continuing to grow, albeit slowly.
China's PMI, which surveys big firms, fell to 50.4 in January from 50.6 in December.
In the UK, activity in the manufacturing sector edged higher in January despite falling export orders.
The PMI measure fell slightly to 50.8 from 51.2 in December.