Carlsberg signs joint venture in Burma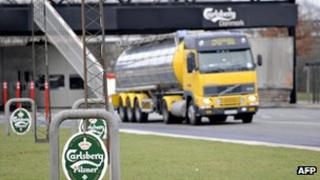 Carlsberg has signed a joint venture to brew and market its beers in Burma, as the Danish brewer looks to Asia for sales growth in order to offset weak trade in Europe.
Carlsberg will own 51% of the joint venture with local firm Myanmar Golden Star (MGS) Breweries.
Beer consumption is on the rise in the region, with 18% of Carlsberg's sales in 2011 coming from Asia.
Carlsberg has earmarked Asia as an important market for its future growth.
"We have followed the developments in Myanmar closely and are encouraged by the recent political developments in the country," said Roy Bagattini, senior vice president of Carlsberg Asia Region, in a statement.
"We believe that the timing is right for us to invest in the country. We expect that the Myanmar beer market will grow strongly in coming years as the economy expands."