Panasonic and Sharp stick to glum forecasts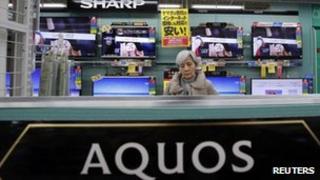 Japanese electronic giants Sharp and Panasonic both stuck to their dismal forecasts for massive full-year losses, even as results for the latest quarter were boosted by the weak yen.
Panasonic reported a 61.3bn yen ($666m; £421m) net profit for the October-December period, compared with a 197.6bn yen loss a year ago.
Sharp's net loss shrank to 36.7bn yen, from 173.6bn yen a year earlier.
Sharp expects a 450bn-yen annual loss; Panasonic a 765bn-yen full-year loss.
'No material uncertainty'
Sharp said sales of LCD TVs "fell drastically" on a year ago, mainly as a result of "sluggish demand in Japan and a sales decline in China, owing to worsening Japan-China relations".
Japan and China are currently involved in a territorial dispute over ownership of an East China Sea island chain, with the row sparking a Chinese boycott of some Japanese goods.
However, its overall quarterly sales rose 15% on a year ago to 678.2bn yen.
Sharp has announced thousands of job cuts as it seeks to turn around the business, and the company insisted that the corporate overhaul would save it from going under.
It said its troubles "will not cast a material uncertainty about Sharp's ability to continue as a going concern".
Panasonic, meanwhile, has been hit by strong competition from rivals, including US manufacturer Apple and South Korea's Samsung.
Sales in the last quarter fell 8% on the year to 1.8 trillion yen.
The company said global demand for flat-panel TVs and digital devices had weakened, though sales of LED lighting and in-car equipment had grown.