Anglo American Platinum sees loss after strikes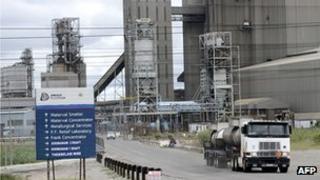 Anglo American Platinum, the world's largest producer of the precious metal, suffered full-year losses following disruption after last year's violent strike action.
The miner, known as Amplats, reported a 6.33bn rand ($710m; £452m) operating loss for the year to 31 December 2012.
In 2011 it made a 7.97bn rand profit.
Production at its Rustenburg mine, north-west of Johannesburg, South Africa, was disrupted for eight weeks in 2012 after illegal strike action.
Output for the year fell 8% to 2.2 million ounces.
The Amplats results come on the same day as the Indaba mining investment conference in Cape Town, the world's largest gathering of stakeholders involved in the mining industry.
Amplats, 80%-owned by minerals giant Anglo American, plans to lay off up to 14,000 workers and shut two mines in an effort to return to profitability.
As the company's net debt increased 186% to 10.49bn rand, up from 3.66bn rand at the end of 2011, the board has decided to shelve paying a final dividend.
In a statement, chief executive Chris Griffith said: "Operationally, 2012 was a challenging year for Anglo American Platinum and the platinum industry as a whole.
"The year was characterised by lower prices, illegal industrial action which impacted production, unit cost, labour productivity and, of course, profitability and earnings."
Amplats plans to reduce production to between 2.1-2.3 million ounces per annum "to more closely align output with expected demand".
Capital expenditure will fall to between 6bn and 7bn rand a year over the next three years, the company said.
Violent strikes in the platinum and gold industry clamed more than 50 lives last year, including 34 striking miners who were shot dead by police.