Commerzbank expects massive fourth-quarter loss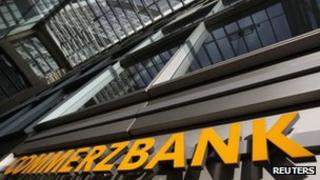 Commerzbank, Germany's second biggest lender, has said it will post a large loss for the fourth quarter.
The bank expects a net loss of 720m euros (£621m) after a revision of its medium-term profits forecast had a negative effect on its tax accounting.
Full-year net profit will be just 6m euros, down from 638m euros in 2011, due to extraordinary charges totalling 980m euros for the year, the bank said.
Restructuring charges will cost it a further 500m euros in early 2013.
Commerzbank, which was downgraded by ratings agency Moody's in June 2012, intends to cut 4,000 to 6,000 jobs by 2016 and to invest more than 2bn euros revamping its retail banking operation.
Its shares were down more than 5% in afternoon trading.
It will publish its detailed financial results for the fourth quarter and full-year on 15 February.