Yum Brands profit dips amid food safety scare in China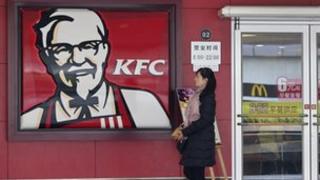 Yum Brands, owner of KFC, Pizza Hut and Taco Bell restaurants, has reported a dip in fourth quarter profits as a food safety scare hurt its sales in China.
Net profit dipped 6% to $337m (£214m) in the three months to 29 December.
Yum said sales in China fell 6% during the period after a report that two of its suppliers were providing chickens with excessive levels of antibiotics.
China is one of Yum's biggest markets and the firm warned that its profits may decline further in 2013.
"As a result of adverse publicity from the poultry supply situation in mid-December, China KFC sales experienced a sharp decline," David Novak, chief executive of Yum said in a statement.
"Due to continued negative same-store sales and our assumption that it will take time to recover consumer confidence, we no longer expect to achieve earning per share (EPS) growth in 2013."
However, the firm said that it was committed to the Chinese market and planned to open 700 new stores in the country in 2013.
Yum added that it was in the process of reviewing its supply chain management and would also launch a "brand reputation" campaign to re-assure customers of "our high quality food".
"We are steadfast in our belief that the power and popularity of the KFC brand in China will ultimately drive a full sales recovery," said Mr Novak.
Meanwhile, Yum reported a 22% jump in profit for 2012.
It made a net profit of $1.6bn in the year to 29 December 2012, up from $1.3bn a year earlier.