RFU and IBM in launch of fan analytics service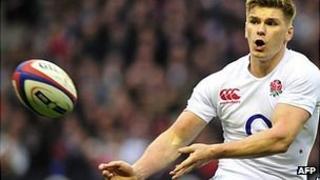 The Rugby Football Union (RFU) and its analytics partner IBM are to provide fans with real-time match insights.
The new Trytracker uses predictive analytics software to analyse historic and current rugby data to provide in-game stats including player performance
It explains to users what needs to be done to increase the likelihood of a team win against specific opponents.
Data collected and provided by Opta for all England internationals is analysed by IBM, before being hosted on RFU.com.
'Insight'
The Trytracker can be accessed by all mobile devices and tablets.
The agreement also includes a customer relationship management (CRM) plan for the RFU, which should allow the governing body to better understand information it has about rugby fans.
It is hoped that can help the organisation to communicate with supporters and participants "in a more personalised way".
"This important new long-term agreement will enable the RFU to give fans even more insight and understanding into what's happening on the pitch and why, as well as ensuring we remain at the forefront of new technology to enrich the overall fan experience," said Sophie Goldschmidt, chief commercial officer at the RFU.