SABMiller eyes China expansion with $864m Kingway deal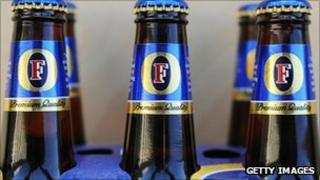 SABMiller has agreed to buy China's Kingway Brewery Holdings in a 5.4bn yuan ($864m; £550m) deal.
SAB has been trying to boost its share in China, the world's largest beer market and one of its fastest growing.
However, profit margins in China have been low as a large number of brewers has resulted in lower sale prices.
Last year, SAB had said that consolidation in China was a long-term trend and would lead to "greater industry profitability".
According to the brewing giant, China accounted for 43% of the total growth in global beer volumes in 2011.
The acquisition will give SAB access to Kingway's seven breweries, some of which are located in China's most rapidly developing provinces.
"The acquisition of Kingway gives us greater access to high growth and attractive regional markets in China, thereby enhancing China Resources Snow Breweries Limited competitive position," said Ari Mervis, managing director of SABMiller Asia-Pacific.
China Resources Snow Breweries Limited is SABMiller's joint venture with China Resources Enterprise, a conglomerate with interests in retail, beer, and food and beverages in China.
The deal is the latest move by SAB to increase its presence in Asia-Pacific. It bought Australian brewer Foster's for 9.9bn Australian dollars ($10.2bn; £6.5bn) in 2011.