Halifax says signs of life in housing market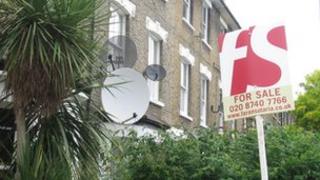 UK house prices registered their first annual rise since October 2010, rising by 1.3% in January compared with a year earlier, a lender has said.
But the Halifax, now part of Lloyds Banking Group, also said that property values were 0.2% down on December.
The "signs of improvement" in the market, which started in late 2012, continued into the new year, the lender said.
But it added that the outlook for prices was unclear.
Prices in the three months to January were 1.9% higher than in the previous three months, the Halifax said, with the price of the average home valued at £162,932.
The figures, based on the Halifax's own lending data, suggested that prices had picked up slightly more year-on-year than figures from the Nationwide Building Society.
However, the year-on-year comparison is calculated slightly differently by the two lenders. The Halifax compares the previous three months with the same three months a year earlier to give a smoother comparison, rather than a direct comparison of the equivalent months as calculated by the Nationwide.
'Unclear outlook'
Halifax's housing economist Martin Ellis said that the Bank of England's Funding for Lending scheme was likely to have been a factor in a pick-up of sales and prices.
The scheme, operating since last August, has been offering cheap funds to banks and building societies, on condition they then lend the money to personal and business customers.
It has been widely suggested that this has increased the availability of mortgages, especially to those able to offer a large deposit. However, it has had less of an effect on loans to small firms.
Mortgage approvals for home buyers have risen in recent months, signalling the potential for increased sales and prices.
Yet recent figures from the Land Registry, based on actual sales, showed that any pick-up in the market would not necessarily have been seen across all areas.
Data for 2012 showed that prices in London rose by 8.4% last year, while prices in the North West of England fell by 3.5%.
The Halifax's Mr Ellis said that the state of the economy would be key for the performance of the housing market this year.
"The outlook for the UK economy and house prices is more unclear than usual," he said.
"Subdued economic growth and pressures on household finances are expected to constrain housing demand. Overall, we expect continuing broad stability in house prices nationally in 2013."
Jonathan Hopper, managing director of the property search consultants Garrington, said: "While transaction levels in 2012 were the highest for five years, they are still a shadow of their pre-crash levels, which can make the housing data volatile."