All Nippon Airways cancels more Dreamliner flights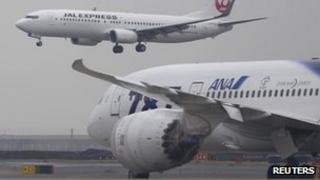 Japan's All Nippon Airlines (ANA) has cancelled an additional 368 flights in February, as the "no-fly" order on Boeing's 787 Dreamliner continues.
ANA has now cancelled over 1,200 flights since safety regulators grounded the entire fleet of Dreamliners on 16 January following concerns over the plane's battery.
More than 100,000 of ANA's passengers have been hit by the cancellations.
January's disruption alone has lost the company 1.4bn yen (£9.5m) in revenue.
The 50-strong fleet of Dreamliners, of which ANA has 17, was grounded after a battery on a Japan Airlines 787 caught fire, and a malfunction forced an ANA flight to make an emergency landing.
But investigations into the battery have so far proved inconclusive.