Equitable Life compensation payouts prompt debate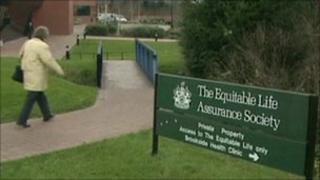 A campaign group has challenged a government claim that compensation being paid to people who lost money invested with the Equitable Life pension company is "on track".
Nearly 80% of eligible individual policyholders have received a share of £535m so far.
They lost money after the Equitable nearly collapsed in 2000.
But the Equitable Members Action Group (EMAG) said that some of the oldest policyholders were awaiting payouts.
Scandal
The near-collapse of the Equitable, once regarded as the best managed private pension company in the UK, has been the longest running financial scandal of the 2000s.
The compensation scheme was designed at the request of the coalition government, and started to make payouts in June 2012.
Some 370,867 policyholders had received cheques by the end of January, and payments to all the individuals who could be traced were on track to be completed by April as planned, Economic Secretary to the Treasury Sajid Javid said.
It was also confirmed that a total of £9m had been paid to the estates of 5,760 deceased policyholders and others were continuing to be contacted.
But Paul Weir, of EMAG, said the support group had received numerous calls from people, including one man aged 90, who had not received any payouts.
He said that 85,000 individuals were still waiting for a cheque, a system to prioritise the most elderly had "gone out of the window", and administration of the scheme was "dire".
"While 80% of individuals have now had a payment, it only represents about one-fifth of what they have lost," he added.