Time Warner profits boosted by rise in TV fees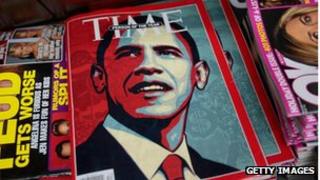 Rising TV subscription fees plumped up profits at Time Warner.
The media and entertainment giant said profits in the last three months of 2012 rose 51% from a year ago to $1.2bn (£750m), despite no change in revenues.
TV subscription income rose 7%, as cable and satellite operators paid more to carry channels such as CNN and TNT.
The company said its Warner Bros film studios had had a slightly less stellar quarter and confirmed a costly overhaul of the struggling Time Magazine.
The results were strong enough that Time Warner announced an 11% increase in its dividend, and plans to buy back $4bn of its shares - which would increase the value of the remaining shares.
Shares in Time Warner rose 4.1% by the close of trading on Wednesday.
They come a day after Disney also announced stronger-than-expected profits.
Struggling magazine
Time Warner's TV business continued to enjoy strong demand from viewers and networks, with the number of US subscribers to its premium HBO network increasing.
It was not all good news though. Advertising revenues remained weak, and its CNN news channel, which has struggled for ratings, underwent a change of editor, with some faces disappearing from its broadcast team.
Its Hollywood unit, Warner Bros, saw a 4% dip in revenues in the October-December period as the theatre releases of the Hobbit and Argo in the period failed to match the impact of the home release of the last Harry Potter film and the Batman Arkham City game a year ago.
The media group said its other founding name - Time Magazine - continued to suffer from dwindling revenues - a common problem across the entire publishing industry, as readers and advertisers migrate online.
Revenues at the title fell 7% from a year before, and Time Warner said it would spend $60m restructuring the business. In January it announced 500 job cuts at the magazine - about 6% of its workforce.