Ocado losses narrow as sales increase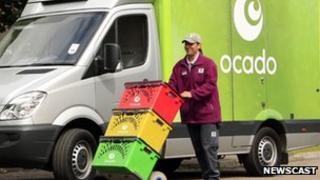 Online supermarket Ocado has seen its losses narrow, thanks to increasing sales.
The company reported a loss of £600,000 in 2012 - down from £2.4m in 2011. Sales rose 11.4% to £716m - with a record week in the run-up to Christmas.
It is opening a second distribution centre in Warwickshire to help it compete against its rivals. The move will create about 1,000 new jobs.
Ocado shares closed 10.7% higher at 115p.
While the shares are up more than a quarter so far this year, they are still below the flotation price.
Ocado shares were floated in July 2010 at a price of 180p.
Partner needed?
Last Updated at 17 Oct 2017, 12:13 GMT
*Chart shows local time
price
change
%
299.00 p

-

-2.00

-

-0.66
"Shopping online for groceries is clearly of increasing importance to customers. " said chief executive Tim Steiner.
"In 2013, we will continue to improve the attractiveness of Ocado to customers and we shall substantially increase our capacity with the opening of our second fulfilment centre."
Matt Piner from the retail research agency Conlumino said that while the company had made impressive progress so far, it was hard to see it continuing to do so alone.
"There is no doubt that Ocado is a progressive, forward-looking business. However, it is difficult to see how it can continue to improve sufficiently without some sort of partnership with a bigger competitor. "
Ocado was set up in 2000 by three former Goldman Sachs bankers and has yet to make a pre-tax profit. Last month, the former Marks and Spencer boss, Sir Stuart Rose, was appointed as chairman.