Australia collects $130m revenue from mining tax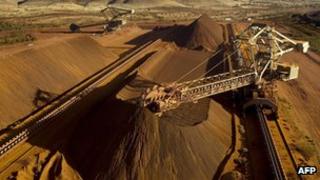 Australia's revenue collection from its controversial mining tax has fallen well short of initial expectations.
The government said it collected A$126m ($130m; £80m) in the six months since it was implemented on 1 July 2012.
It had forecast revenues of A$2bn in the year to 30 June 2013 from the move, which imposes a 30% tax on iron ore and coal mining firms in the country.
Treasurer Wayne Swan said that a drop in commodity prices had hit the resources sector and hurt tax revenues.
"It's clear revenues from resource rent taxes have taken a massive hit from the impact of continued global instability, commodity price volatility and a high dollar," Mr Swan said.
"Revenues across the board are down very substantially.
"Minerals Resource Rent Tax (MRRT) is a profits-based tax that raises more revenue when profits are higher and less when they are lower," he explained.
Large mining firms had opposed the tax, saying it will hurt their competitiveness and affect future investment in the sector.
Political issue
The levy has also faced criticism from the opposition, which said that it was not raising enough revenue and was costing millions of dollars to administer.
On Friday, Senator Mathias Corman of the Liberal Party labelled the mining tax implementation a "complete fiasco".
"After nearly 3 years of Swan MRRT secrecy, we finally get to see the costly consequences of his fiscal incompetence in black and white," Mr Corman tweeted.
"Any Chief Financial Officer of a publicly listed company who missed key revenue prediction on a major measure by 91.4% would be under serious pressure to quit," he added.
Mr Swan had previously rejected calls to release the revenue figures, saying that it would be in breach of the privacy provisions of Australia's tax laws.
The mining tax is likely to be a hot topic of debate in Australia's next general elections which are scheduled to be help in September this year.