French economy to avoid recession, says central bank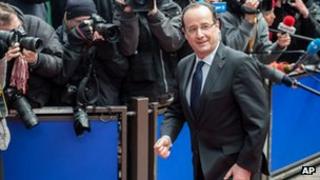 The French economy will avoid recession this year, according to the country's central bank.
It predicts growth of 0.1% in the first three months of 2013, a more upbeat outlook than that of many economists, who are discouraged by recent data.
A recession is usually defined as two consecutive quarters of contraction.
In its monthly report, the Bank of France said: "Forecasts point to a modest rise in [industrial] activity in February."
The bank added that the business confidence indicator for industry had risen to its highest level in nearly a year.
But many experts have made gloomier predictions - partly because of January's manufacturing data, which showed the sharpest fall in output since March 2009.
Initial economic growth figures for France are due out on 14 February. The government's official forecast is for 0.8% this year.
French President Francois Hollande is trying to make France more competitive. He recently called for more currency stability, arguing that the French economy "could be destroyed by the rising value of the euro".