Construction output revised up in fourth quarter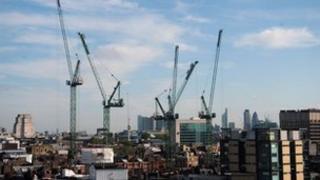 Output in the construction industry grew by more than initially thought in the last three months of 2012.
Construction output rose by 0.9% in the fourth quarter, the Office for National Statistics (ONS) said.
Its previous assumption - used in the first estimate of UK economic growth (GDP) in the fourth quarter - had been for a rise of just 0.3% in the sector.
But the ONS said the revision would have no significant impact on fourth-quarter GDP, which shrank by 0.3%.
The contraction in the economy raised fears that the UK may slip back into recession.
Big falls in construction output were a factor when the UK was last in recession in the first half of 2012.
The latest construction figures marked the first time the sector had grown since the second quarter of 2011.
Growth in private housing and infrastructure accounted for much of the rise, the ONS said, but this was partially offset by decreases in new public non-housing work and private housing repair and maintenance.
The estimated volume of all new work grew by 1.6%, while repair and maintenance fell by 0.3% compared with the previous quarter.
The ONS measures construction output from the activity of business in Britain, not including Northern Ireland, which conducts its own equivalent survey.