Boeing warns customers of 787 Dreamliner delays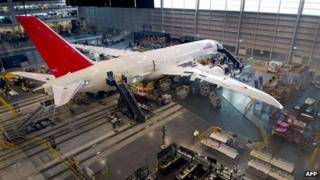 Boeing has warned customers awaiting delivery of new 787 Dreamliners to expect delays, amid a continuing investigation into their safety.
Deliveries of the planes in the near future have either been delayed or are at risk of postponement, the airliner manufacturing giant said.
Customers expecting delivery of 787s soon include the UK's Thomson Airways and Norwegian Air Shuttle.
Investigations are continuing into the safety of the 787s batteries.
The entire fleet of 787s was grounded last month after a battery on one plane caught fire, while a malfunction forced another to make an emergency landing.
Contingency plans
On Thursday US regulators said they would allow Boeing to carry out test flights of 787 Dreamliner planes to test battery performance.
Both Thomson Travel and Norwegian Air Shuttle, a budget airline, have been told to expect delays and are making contingency plans.
Thompson was due to receive its first 787s at the end of February.
The airlines said they had not been given new delivery dates for the planes, which Boeing has touted as its most energy-efficient and economical airliner to date.
So far 50 Dreamliners have been delivered to airlines by Boeing, but all are currently grounded while safety checks are carried out.
A further 473 have been ordered by at least 44 different airlines around the world.