Australia home loan approvals decline for third month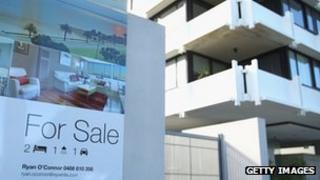 Australian home-loan approvals are down for a third month despite the central bank cutting its main interest rates.
Approvals fell 1.5% in December from November, the statistical bureau said.
Australia's central bank cut interest rates four times in 2012 in an attempt to boost investment and growth in non-mining sectors such as construction.
However, analysts said many mortgage lenders had not passed on the lower borrowing costs, while consumers feared that rates may climb again.
"First-home buyers need to know that rates are going to stay down for them to have the confidence to jump into the market," said Brian Redican, a senior economist at Macquarie.
Passing on benefits
In an effort to offset slower global growth and stimulate the domestic economy, Australia's central bank lowered its key interest rate from 4.25% at the start of last year to 3% in December.
However, mortgage costs have taken longer to come down.
According to its website, ANZ Bank's variable interest rates range between 5.7% per annum and 6.4%. Its fixed rate for a five-year mortgage is 5.99% per annum.
Meanwhile, Westpac's variable rate is around 5.86% per annum, while its fixed rates are also above 5%.
Commonwealth Bank and Macquarie's rates are also above 5% per annum.
Analysts said that the central bank, the Reserve Bank of Australia (RBA), needed to do more to ensure that its rate cuts were fully passed on the home buyers.
"The banks are not going to cut variable rates on their own. Only the RBA can do all that," Westpac's Brian Redican said.