Republic chain enters administration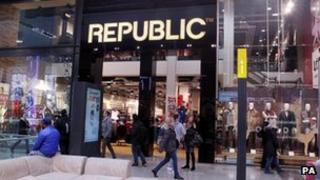 Clothing chain Republic has confirmed widespread fears, announcing that it has called in the administrators.
The Leeds-based retailer, which has 121 stores and about 2,500 staff, said it had appointed accountants from Ernst & Young to take over running of the firm.
The administrators said they had already made 150 staff at the firm's head office in Leeds redundant.
Republic will continue to be open for business, with administrators hoping to sell it as a going concern.
"The brand Republic is well recognised, particularly in the North," said Hunter Kelly, one of the newly-appointed administrators.
"It has a powerful website offering, owns well-known brand names, and has some very attractive and profitable stores."
'Wrong, wrong, wrong'
Republic is owned by private equity firm TPG, which bought the company in 2010 in a deal thought to be worth about £300m, and now stands to lose much, if not all, of its investment.
Some private equity firms have been accused in the past of taking a gamble with the companies they buy up, by loading them up with debt - something that allows them to reduce the amount of cash they need to invest themselves, and which allows them to deduct the interest payments from their tax bill.
But, according to retail analyst Nick Bubb, this did not appear to be the case with TPG's purchase of Republic - indeed at one point the investment firm sank even more of its own money into the business in a failed attempt to turn it around.
"I just think TPG made a mistake," said Mr Bubb. "Three years ago, TPG thought they were buying a highly profitable and dynamic young fashion brand with lots of expansion potential, but they simply bought the wrong brand at the wrong time for the wrong price."
The company wrong-headedly opened new branches following its acquisition, instead of focusing on its profitability, according to Honor Westnedge, retail analyst at Verdict Research.
"They came in wanting to grow the business, whereas actually what it really needed was a bit more management care and attention."
Hard hit demographic
Founded in 1986, as a men's denim retailer in Leeds under the name Best Jeans, Republic underwent a rapid expansion 10 years ago, but has since seen sales slacken off.
"Republic suffered poor trading results in the autumn, and whilst sales picked up in December there has been a sudden and rapid decline in sales in late January," said Mr Kelly of Ernst & Young.
That slump in business, following the end of its pos-Christmas sales, caused a drain in cash that meant the retailer could no longer pay its bills on time.
The company focuses on the youth fashion market, which is fiercely competitive and under pressure, offering brands such as Jack & Jones and SoulCal.
However, its core demographic has been hit hard by the weak economy, according to Ms Westnedge, with young consumers facing a particularly high unemployment rate, as well as rising university tuition fees.
While some have traded down to cheaper retailers such as Primark, H&M and JD Sports, others have gone for stronger brands such as Superdry, Asos and River Island, leaving the likes of Republic falling between two stools.
'Worst' post-Christmas period
Republic is following in the footsteps of a list of High Street stalwarts.
These include the music retailer HMV, the camera group Jessops, and the DVD and games rental company Blockbuster.
Administrators at Blockbuster announced on Wednesday that they would shut a further 164 stores at the DVD rental chain, adding to the 160 closures already announced, and leaving only 204 still open.
"It's the worst post-Christmas period we've seen in a long time," said Matthew Hopkinson from the Local Data Company.
He added that while some stores may be snapped up, the vast majority of them are in shopping centres, which would be difficult to fill.
"HMV and others have also been sitting in shopping centres and therefore I think the number of units which have gone in the last few months in shopping centres will make it far harder than 12 months to refill them," he said.
Its chairman, Andy Bond, who was a former boss of Asda, is said to have left the company last week after two years.
Its current chief executive is the former boss of TK Maxx, Paul Sweetenham.