Thomson Reuters to cut 2,500 jobs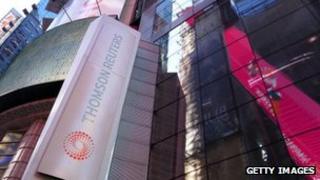 Financial news and data provider Thomson Reuters has said that it will cut 2,500 jobs, or 4% of its workforce.
The jobs will go in its Financial and Risk unit, responsible for renting out computer terminals to clients such as investment banks.
The news came as Thomson Reuters unveiled a return to a $372m (£239m) profit in the last quarter of 2012.
However, the firm said that sales would remain sluggish, likely to grow only in the low single-digits during 2013.
Speaking about the job cuts, chief executive Jim Smith said: "These are not easy decisions, but our cost structure has to meet our customers' requirements."
Shares in the firm fell more than 2% in New York.
Revenue for 2012 at Thomson Reuters rose 3% to $12.9bn. But arch-rival Bloomberg said on Wednesday that revenue for the year rose 4.5% to $7.9bn.
Bloomberg markets its own data system, which has consistently proven to be a hit with bankers and investors.
Thomson Reuters, a UK-Canadian firm headquartered in New York, has sought to hit back with the launch of its Eikon desktop software.
The number of Eikon-powered computers rose 33% in the fourth quarter from 33,900 in 2012's third quarter, the firm said.