Rolls-Royce profits and revenues rise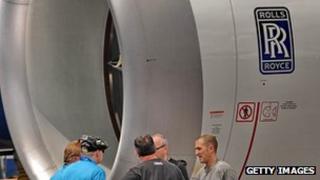 British aerospace company Rolls-Royce has reported a higher-than-expected rise in full-year profits.
Underlying pre-tax profit rose 24% to £1.4bn ($2.18bn; 1.63bn euros), led by a strong performance in its civil aerospace division.
The world's second largest aero engine maker saw revenues grow 8% to £12.2bn.
The company also appointed a new chairman, Ian Davis, who will succeed Sir Simon Robertson following the annual general meeting on 2 May 2013.
Investec analyst Andrew Gollan said: "Rolls has delivered solid results, slightly ahead of our estimates and guided to another year of good growth in profits."
It is maintaining its forecast that pre-tax profits will grow 20% in 2013.
Rolls-Royce's order book rose 4% to £60.1bn thanks to strong demand for its Trent aircraft engines.
The newly-certificated Trent XWB engine will power the Airbus A350, while its Trent 1000-TEN will power Boeing's 787 Dreamliner from 2016.
Looking ahead, chief executive John Rishton said he expected "modest growth in underlying revenue and good growth in underlying profit" in 2013.
He said the company would concentrate on making engines for the civil and defence aerospace markets as well as turbines for the marine and energy sectors.
But Rolls-Royce is withdrawing from tidal power generation, following the sale of its business to Alstom in January 2013.
The company also sold a 51% stake in its fuel cell business to LG.
Rolls-Royce's share price rose 3.3% in late afternoon trading to £10.17.