Home repossessions lowest since 2007, says CML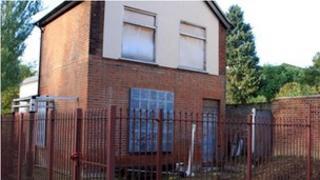 The number of homes repossessed in the UK fell to its lowest annual level since 2007, with 33,900 homes seized last year.
Repossessions for the final three months of the year also saw the lowest quarterly figure for five years, the Council of Mortgage Lenders (CML) said.
Repossessions have fallen steadily in recent years, owing to low interest rates and lenders showing restraint.
The number of householders facing mortgage arrears was also down.
"The fall in arrears and possessions is obviously very welcome. Households fall into difficulty for a variety of reasons, most of which cannot be anticipated," said CML director general Paul Smee.
"Wherever possible, lenders will work with borrowers to manage periods of temporary financial difficulty and enable them to keep their home. Anyone worried about their situation should talk to their lender, who will try to help them."
Low interest rates
The level of repossessions in 2012 was lower than the CML's own predictions for the year.
It had forecast that 45,000 homes would be seized by mortgage lenders who had run out of patience with borrowers who were unable to repay their home loans.
The economy has been in the doldrums, but this has not led to more householders losing their homes owing to a number of factors.
These include the record low level of interest rates that borrowers have to pay, as a result of the Bank of England's decision to maintain the bank rate at its historically low level of 0.5%.
In addition, lenders have been under pressure not to repossess properties unless it is genuinely a last resort. They must do a considerable amount to convince the courts that they should seize a borrower's home.
Falling numbers
There are 11.3 million residential mortgages outstanding in the UK.
In 2007, just prior to the financial crisis, 25,000 homes were repossessed, but the total rose sharply after that.
It peaked in 2009 at 48,900, and has fallen steadily since.
On a quarterly basis, repossessions stood at 7,700 in the final three months of 2012, down from 8,200 in the previous quarter, and lower than the 8,800 seen in the last three months of 2011.
The number of borrowers struggling to pay, and facing arrears of more than 2.5% of the balance of their home loan, stood at 157,900 at the end of 2012.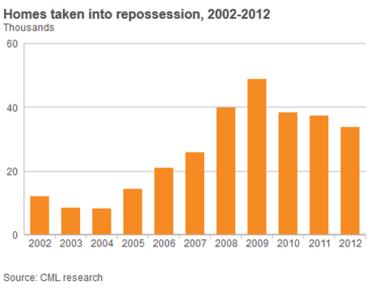 This was slightly lower than the 161,400 households in this situation a year earlier.
However, the number of people in the most critical situation, with arrears of more than 10% of the outstanding balance, has risen slightly.
Sir Mervyn King, the governor of the Bank of England, said on Wednesday that while there were some signs of optimism for the UK economy, the rising cost of living would remain stubbornly high for some time.
This means that people should seek help early if they face financial difficulties, lenders say.
"Borrowers must seek help, preferably before they miss a payment, speaking to their lender or one of the specialist - and free - debt agencies, such as Citizens Advice," said Jonathan Harris, director of mortgage broker Anderson Harris.
"It is essential that lenders continue to show forbearance and look after customers who are struggling by switching them to interest only, allowing them to take payment holidays or extend their mortgage terms, where practical."
He added that people facing repayment difficulties did not have the luxury of the cheap mortgage rates that are seen in the market at present.
Separate statistics suggested that the number of repossessions was unlikely to rise in the short-term.
The number of repossession actions started in the courts in England and Wales fell very slightly in the final quarter of the year, Ministry of Justice data shows.
There were 14,130 such claims started by lenders, down from 14,168 in the previous quarter.