Energy giant EDF sees profits rise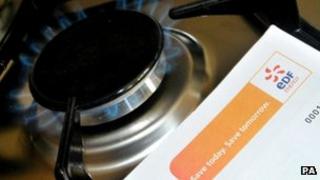 France-based gas and electricity provider EDF has announced a rise in global profits.
The company said it made net profits of 3.3bn euros (£2.8bn; $4.4bn) in 2012, up 5% on the previous year.
UK profits were also up, though this was largely due to its nuclear energy generating business, which accounts for about 95% of UK earnings.
EDF's UK residential gas and electricity supply business continues to be loss making.
The company supplies about 3.7 million customers in the UK, and in December announced that bills would rise by an average of 10.8%.
EDF is the most complained about of the big six energy providers in the UK, according to recently published figures. The least complained about is Scottish Power, which is owned by Spanish energy giant Iberdrola.
Iberdrola also reported rising profits on Thursday, with net profits up to 2.8bn euros in 2012.
EDF said its nuclear generating business had performed strongly last year, with the highest electricity production in seven years.
It also said output at its UK-based coal-fired plants rose 37%.
Despite making a loss, EDF's residential supply business supplied 20% more gas last year due to cold weather.