Morrisons buys 49 Blockbuster stores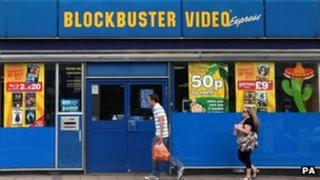 Morrisons is to buy 49 stores from the failed Blockbuster film rental chain, the supermarket has announced.
The Bradford-based retailer will use the purchase to build a new convenience store franchise, especially in London and the South East.
The converted "Morrisons M" local shops should open by late summer, creating 1,000 jobs, Morrisons said.
The stores are among 164 that Blockbuster's administrators, Deloitte, said this week were to be shuttered.
Blockbuster went into administration last week, as its entire business model of High Street-based DVD and video rentals has been superseded by online streaming services provided by the likes of Apple iTunes, Amazon's Love Film and Netflix.
The 164 store closures and 800 job losses announced by Deloitte this week came on top of 168 closures and 760 redundancies previously announced.
Although Morrisons has not made any formal commitment to retain Blockbusters staff, the firm said it "would be delighted if they wanted to apply for jobs at the new stores".
Convenient deal
The 49 stores being purchased for an undisclosed payment are of strategic value to Morrisons which has lagged other supermarkets in creating a convenience-store format, as well as a home delivery service.
It also wants to increase its presence in the lucrative South East of England.
Nationally, Morrisons has about 11% market share among supermarkets, but in the South it is just 6%.
The firm has previously declared its intention to open 70 convenience stores by the end of this year, primarily in the Greater London area.
To this end, it has already bought up seven stores from the failed camera retailer Jessops, and announced the rebranding of the 12 "M Local" stores that it already owns.
Furthermore, Morrisons has acquired a 100,000 sq ft (9,300 sq m) distribution centre in Feltham, west London.
The firm is expected to announce the inauguration of an online delivery service when it unveils its full-year results on 14 March.
"We are rolling out the Morrisons M local estate at pace this year, and these acquisitions give us a kick-start in securing a solid foothold in this key sector," said Gordon Mowat, head of Morrisons Convenience.
"The convenience market is growing, as more people shop locally and we want to be in a position to take advantage of this."
Deloitte said that the deal was expected to be the first of a number of group and individual sales that it would announce, as it worked through the inventory of Blockbuster stores recently earmarked for closure.