Bridgestone shares surges as tyre-maker's profits rise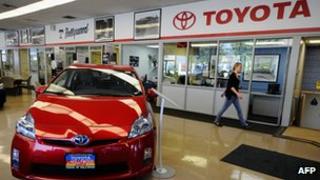 Shares of Bridgestone, the world's biggest tyre-maker, have surged after it reported a 67% jump in net profit.
Its shares rose more than 10% to 2,820 yen on the Tokyo Stock Exchange.
On Monday, Bridgestone reported a net profit of 171.6bn yen ($1.8bn; £1.2bn) in the year to 31 December 2012, compared with 103bn yen a year earlier.
Its profits have been helped in part by the production boost at Japan's leading carmakers as they continue to recover from the 2011 natural disasters.
At the same time a recovery in demand from the US car market has also helped boost sales of Japanese carmakers, driving up demand for car parts.
Sales of Toyota, Japan's biggest carmaker, jumped 22% in 2012 to 9.29 million vehicles.
Meanwhile, Nissan Motor said it sold a record 4.94 million vehicles globally in 2012, up almost 6% from the previous year. Honda Motor also saw a jump of 19% from a year earlier, selling 3.82 million vehicles.
Global carmakers such as Volkswagen and BMW have also reported record annual sales for 2012.
At the same time, a sharp decline in the Japanese currency has also helped lift profits. The Japanese currency has dipped nearly 15% against the US dollar since November.
A weak currency boosts profits of exporters when they repatriate their foreign earnings back home.
Bridgestone said its profits were also lifted by "improving manufacturing productivity, enhancing technology and effectively utilising our management resources".
The firm also forecast a 37% jump in net profit for the current year, further boosting investor morale.