UK High Street vacancies 'stabilised in 2012'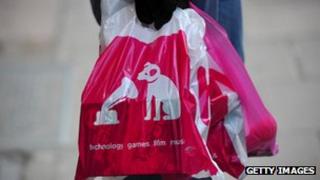 The percentage of shops lying empty in High Streets and shopping centres stabilised last year, a report says.
The Local Data Company (LDC) found that the shop vacancy rate fell to 14.2% from 14.3% in 2011. This followed three years of increases in vacancies.
LDC said that vacancy rates fell in London, the East Midlands and Yorkshire.
All the other regions saw an increase in vacancy rates, with the West Midlands seeing the largest rise.
The past couple of months have seen a number of high-profile retailers fall into administration, including HMV, Jessops and Blockbusters.
Fewer shops needed
"Online is driving growth for a majority of retailers and so 2013 is all about the supporting role that shops will have as 'customer experience' centres and showrooms, as much as transactions through their till," said Matthew Hopkinson, director at LDC.
"Inevitably this means fewer shops will be required as our net closures data shows.
"The pressure between online and rising costs of running a shop on the High Street due to rents, rates and parking charges, is likely to become an increasingly hot topic."
The LDC report is based on an analysis of 650 town centres.
Last week, UK retail sales figures showed an unexpectedly large drop of 0.6% for January. It suggests that higher that higher inflation and slow wage growth are squeezing household incomes and that this is being felt in the UK's shops.
The Office for National Statistics figures showed that the amount spent online accounted for 10.1% of all retail spending, excluding fuel.