Office Depot and OfficeMax agree to merge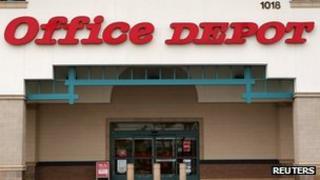 US retailer Office Depot has agreed to buy its rival OfficeMax for about $1.2bn (£785m).
The firms confirmed the deal after it was inadvertently announced two hours earlier, before it had been completed.
In a joint statement, the companies said the deal would create "a stronger, more efficient global provider better able to compete in the rapidly changing office solutions industry".
Office supplies retailers have faced increasing competition from online.
The deal marks the first move towards consolidation in the industry.
The combined company would have had combined revenues of about $18bn in 2012, the firms said.
Under the terms of the all-stock deal, Office Depot will issue 2.69 shares for each OfficeMax share. That is equal to about $13.50 per share, based on Office Depot's closing share price on Tuesday of $5.02, giving the deal a total value of about $1.2bn.
Compete effectively
"In the past decade, with the growth of the internet, our industry has changed dramatically," said Neil Austrian, chairman and chief executive of Office Depot.
"Combining our two companies will enhance our ability to serve customers around the world, offer new opportunities for our employees, make us a more attractive partner to our vendors, and increase stockholder value."
Ravi Saligram, president and chief executive of OfficeMax, said: "Together, we will have the opportunity to build on our strong digital platforms and to expand our multichannel capabilities to better serve our customers and to compete more effectively."
Both Mr Austrian and Mr Saligram will be considered for the top job at the combined company, as well as external candidates. The board of the new company will have equal representation from the two firms.
Store closures?
Analysts have long said that the office supplies sector has been ripe for consolidation.
BB&T Capital Markets analyst Anthony Chukumba said the Office Depot-OfficeMax combination would help larger rival Staples, too.
"Clearly, you can't make this deal work unless you close a bunch of stores," he said.
"Store rationalisation is long overdue, and Staples will clearly benefit from just having fewer stores to compete with."
Office Depot, which has more than 1,100 stores in North America and 1,675 stores worldwide, made a loss of $17.5m in the last quarter.
OfficeMax, which has 900 stores in the US, reported a loss of $33.9m.
Trading in shares of both companies was briefly suspended after the inadvertent early publication of the deal.
When trading resumed, Office Depot shares plunged 16.7% while those in OfficeMax initially rose but eventually closed down 7%.